Mayweather accepts plea deal, clear cases
Undefeated US boxing star Floyd Mayweather will plead guilty to reduced charges on Wednesday in a deal to end two pending criminal cases, the Las Vegas Review-Journal reported on Tuesday.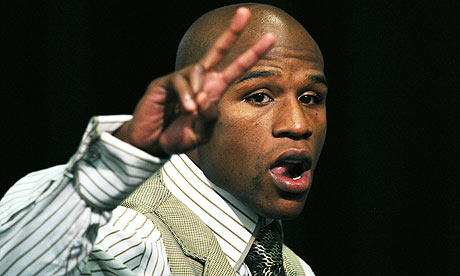 Mayweather faced up to 34 years in prison over a domestic violence incident and another charge of battery on a security guard in a dispute involving traffic tickets, but might serve only as little as two days behind bars.
Clark County district lawyer David Roger told the newspaper that Mayweather will enter guilty pleas in Las Vegas Justice Court on one count of battery domestic violence and two counts of harassment, all misdemeanours.
Prosecutors retained the right to argue for sentencing under the deal and Mayweather could face $3,000 in fines and a minimum of two days in jail up to a maximum to 18 months behind bars.
Mayweather, 34, was set to have a preliminary hearing on Wednesday on felony charges that included coercion, grand larceny and robbery from a 2010 incident involving ex-girlfriend Josie Harris and their three children. - http://www.nzherald.co.nz